Local Attractions
The Domaine is totally private at the end of a chemin, with a farm as one neighbour and a small wine producer the other! It is therefore a place to relax and soak up the sun beside the pool!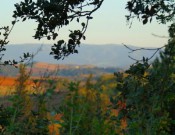 The countryside of the Aude is one of the most diverse in France. A 15 minute drive can take one into the gently rolling wheat fields of the Lauragais, vineyards of the Limouxin, or wild mountains and gorges of the Corbieres, always with the Pyrenees as a backdrop.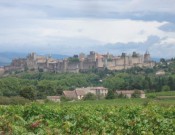 We are surrounded by castles and ancient fortified towns, the greatest of which is Carcassonne, less than 30 minutes away. The mediaeval town of Mirepoix with its Monday market in the arcaded square is also nearby.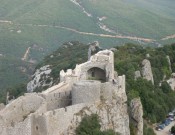 Cycling, canoeing and walking are favourite pastimes and lakes offer the chance for leisurely swims and picnics. We provide a set of self-guided walks in each gite. Scenic Mediterranean fishing villages and fine beaches are just over an hour away.